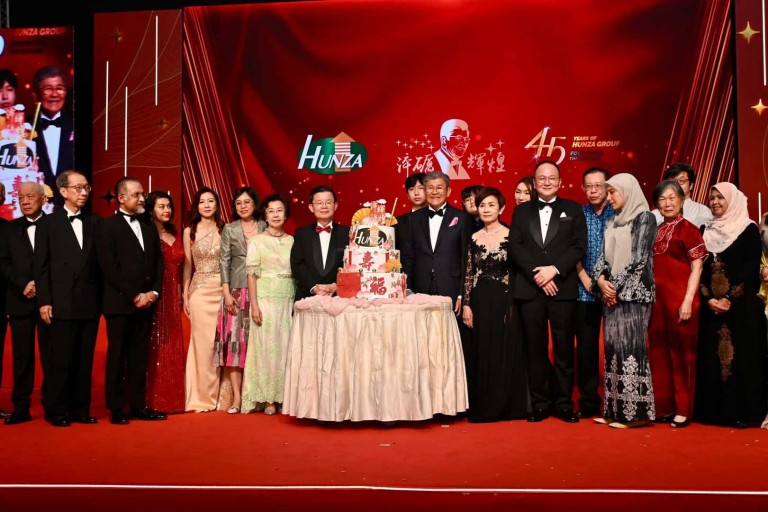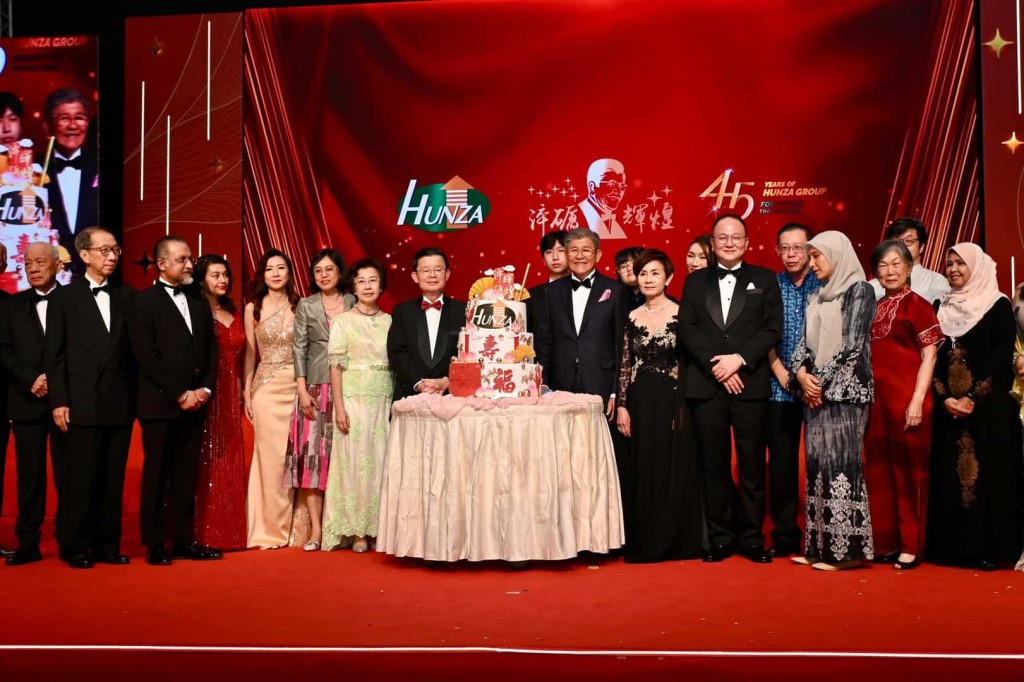 It was definitely a night to remember at the Hunza Group 45th anniversary celebration held at the Setia SPICE Convention Centre in Bayan Lepas yesterday night.
Hundreds of dignitaries, including government officials and special guests, attended a luxurious and delicious buffet dinner accompanied by various cultural performances.
The anniversary celebration also marked the joyous occasion of commemorating the 82nd birthday of Hunza Group founder and executive advisor Datuk Seri Khor Teng Tong.
The anniversary celebration was attended by Chief Minister Chow Kon Yeow and his wife Tan Lean Kee.
In his speech, Chow congratulated Hunza Group on its 45th anniversary in the property development industry.
"Alongside the upcoming infrastructure initiatives by the Penang government, such as the expansion of the Penang International Airport and the Tanjung Bungah – Bayan Lepas LRT, I am confident that we will propel Penang to unprecedented heights," Chow emphasised.
Also present during the anniversary celebration were Deputy Chief Minister II Jagdeep Singh Deo, Penang Trade, Entrepreneurial Development and Rural Development Committee chairman Rashidi Zinol, state Social Development, Welfare and Non-Islamic Religious Affairs Committee chairman Lim Siew Khim and state Youth, Sports and Health Committee chairman Daniel Gooi Zi Sen.
Other notable figures include the Chinese Consul-General in Penang Zhou Youbin, Teng Tong, Siang Gin, and its executive director Khor Tze Ming.
Siang Gin highlighted the significance of reaching this anniversary milestone, underscoring the remarkable journey of Hunza Group from its inception when the founder acquired his initial piece of land in Penang in the late 1970s.
"After four and a half decades, Hunza Group has evolved into an award-winning property developer, boasting a portfolio of 16,000 residential and commercial units across Malaysia," Siang Gin proudly stated.
Meanwhile, Teng Tong expressed that tonight's dinner reception holds a dual significance, commemorating his 82nd birthday and the 45th anniversary of the company he founded in 1978.
"I commenced my entrepreneurial journey at the age of 15 with only a basic education. Unaware of the challenges that awaited, I faced a deluge of trials that, in the end, shaped the person I am today.
"Fueled by a commitment to excellence, I pushed myself relentlessly upward over numerous years. In the late 1970s, I made a pivotal decision to relocate my entire family to Penang in pursuit of better education for my growing children.
"That decision became a turning point in my career and life, as it was then that I took a leap of faith into the property industry. It marked my point of rebirth.
"This doesn't imply that the journey since then has been without challenges. Quite the contrary, navigating these uncharted waters proved to be more formidable than any obstacle I had encountered before.
"Nevertheless, I persisted with a prudent approach, a spirit of compromise, and unwavering dedication, investing countless hours throughout our developmental journey.
"I firmly believe that embracing our core values and maintaining steadfastness in the face of external influences can amicably resolve any challenge. Our journey has taken us to various places, and reaching this point today fills me with immense pride for what we have accomplished thus far," he said.
Teng Tong expressed deep gratitude to all the staff at Hunza Group, acknowledging their unwavering dedication and tireless efforts that contributed to the company's success.
"Special appreciation goes to those who have stood by us through the various challenges over the years.
"I take great pride in being a pioneer in providing retirement gratuity to staff members who have remained dedicated to us for an extended period.
"Words alone can never fully convey my appreciation for each of them who consistently went the extra mile for the success of our corporation.
"As a result, I am confident in stating that our prospects are promising in our two main pillars of property development and property investment," Teng Tong affirmed.
Source: Buletin Mutiara
Join our Telegram Channel now to receive instant update on Penang latest projects and property news