The headline S&P Global / CIPS UK Construction Purchasing Managers' Index (PMI) scored 51.7 in July, up from 48.9 in June – anything above 50 represents growth – and the highest level for five months.
July saw the strongest rise in commercial building since February (scoring 54.4) and another solid contribution to growth from civil engineering activity (53.9). However, the data signalled another sharp reduction in residential construction activity (43.0). Survey respondents widely noted that higher interest rates and the uncertain UK economic outlook had constrained order books. But softer demand and fewer supply bottlenecks meant the fastest improvement in vendors' delivery times since March 2009.
Business activity expectations for the year ahead remained positive overall in July and picked up slightly since the previous survey period. Reports from construction companies nonetheless indicated that pressure on customer budgets from higher interest rates remained a key factor holding back output growth projections for the next 12 months.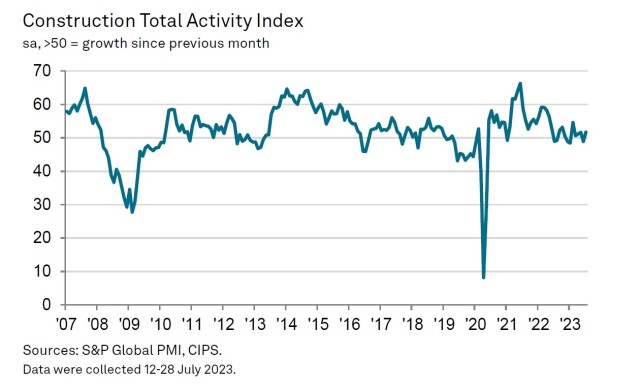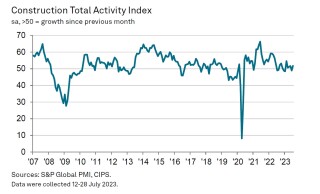 Tim Moore, economics director at S&P Global Market Intelligence, which compiles the survey, said: "July data indicated that some parts of the UK construction sector gained momentum, notably commercial building and civil engineering activity. This led to a renewed rise in total construction output which, although modest, was the fastest for five months. Survey respondents commented on increased infrastructure work, office refurbishments, and resilient demand for a range of commercial projects.
"Meanwhile, another steep reduction in house building acted as a severe constraint on construction growth. Around 35% of the survey panel reported a decline in residential work during July, while only 18% signalled a rise. Lower volumes of housing activity have been recorded in each month since December 2022, with construction companies widely reporting subdued sales due to rising interest rates and worries about the economic outlook.

"Supply conditions improved considerably in July, as a combination of weaker demand and replenished stocks meant that delivery times shortened to the greatest extent since 2009. As a result, input prices inflation was much lower than seen on average in the first half of the year, but there were still many reports from construction firms that higher wages costs had put upward pressure on business expenses."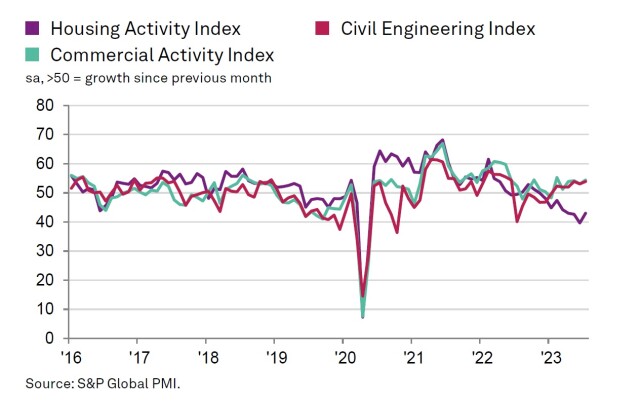 John Glen, chief economist at the Chartered Institute of Procurement & Supply (CIPS), said: "Although the sector showed a slight uplift in activity in July, there is a question mark over the sustainability of this growth and the challenges that lie beneath the floorboards.
"Decisions about buying a new home are being delayed by many consumers. Another fall in residential building levels and for the eighth month in a row, it's obvious that UK interest rate rises and cost of living pressures have dealt a hammer blow to the housing sector. The commercial and civil engineering sectors remained the only engines of growth last month.
"For those that secured additional work, the best improvement in delivery times for raw materials since March 2009 will be music to their ears as supply chain disruptions improved and shortages lessened. Likewise the right skilled candidates found the best positions as job creation rose to the highest for nine months so there were some bright spots in the data.
"In spite of more uncertainty and thinner margins, builders kept their confidence up and focussed on resilience in their operations as optimism about the next 12 months remained fairly steady."
Got a story? Email news@theconstructionindex.co.uk